📦 S03 E01: "A Lightweight Wrapper"

life chapters, pop culture, and ai-generated art
Hey friends, happy Sunday! Drumroll please 🥁
 
Welcome to Season 3 of Thot's Thoughts! The time has come to grow this project and switch up the format.
 
For starters, I'm moving away from the monthly release. I decided on a monthly cadence early on to serve as a forcing function to make sure I actually wrote and did stuff every month. I don't think it's necessary anymore, since I've been consistently shipping this newsletter for almost a year now and I enjoy it too much to stop any time soon.
 
Fitting my life into neat monthly increments doesn't feel right, and that's why I'm moving more towards the notion of "life chapters" instead. An example would be a chunk of time spent in Florida for the holidays. This might span multiple months or less than one, but the general vibe of time period is the same.
 
Another change is that I will no longer be writing mini-posts along with my updates. I want this newsletter to serve as a lightweight wrapper around my other projects and writing, and not be content in and of itself. Though, I frequently have things I want to write about that I wouldn't consider long or well-thought out enough for full blog posts, but not ephemeral enough for Twitter. To remedy this, I've created a scratchpad on my site for this kind of content.
 
Here's a diagram that visually represents what I'm now trying to do. Notice that I've got large blocks for individual projects & writing, and then a newsletter sent out towards the end of the life chapter which summarizes and shares everything (including interesting things that I find) throughout the time period.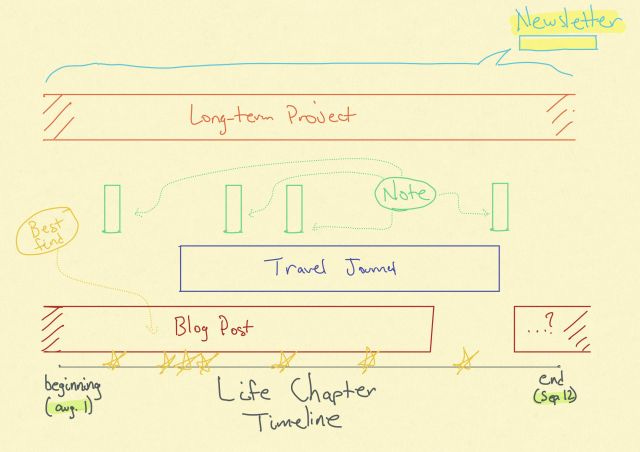 🗺 Personal Updates
I started August with a last-minute trip to Phoenix, after which I was in SF for a few weeks. I then went to Florida to spend time with family. Currently I am in Spain (Madrid) until 9/18, after which I'll be spending the rest of the month in New York City. Hit me up if you're around!

I also got Tarot reading from an unnamed psychic. It looks like I'll be going through an huge career transition within the next 6 months. 👀

My hair is reaching new heights. Crisp $10 bounty to anyone that can snap a good picture of me with a manbun.
🎨 Artifacts
🍯 Best Finds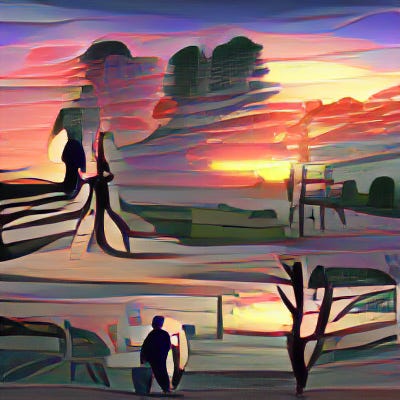 "two people walking into an anime sunset"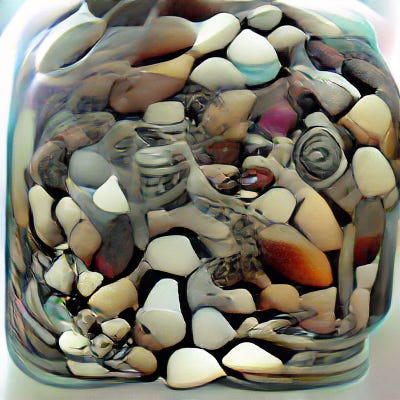 "a jar full of rocks, pebbles, and sand in hawaii"
👋🏽 Conclusion
Thanks for reading! Let me know what you think of any of the links mentioned, and if you have any thoughts or ideas on the format.
 
You can either tweet at me or reply to this email — replies go straight to my inbox 💌

బై (see ya)
— Thot